The Big Workplace Meeting - 9th February
20th January 2016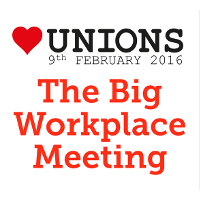 If you missed the live broadcast, you can catch up online on the heartunions website.
We invite you to join us and TUC General Secretary Frances O'Grady with a special guest for a live broadcast to our branch meeting. Frances will give an update on progress of the Trade Union Bill and there will be an opportunity to ask questions via Twitter during the broadcast.
The Big Workplace Meeting will take place across the country, with as many union branch meetings as possible taking place simultaneously.
It is a key opportunity for you as union members to be updated on the progress of the Trade Union Bill and to ask questions. The meetings are being held:
12.30pm, Tuesday 9th February 2016

RGU: Room H230, Faculty of Health and Social Care
UofA: LG29, (LGF Seminar Room), The Sir Duncan Rice Library
We hope to see you there! For further information you can also see the national website www.heartunions.org.