May Day March & Workers' Memorial Day
7th April 2015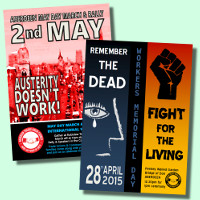 There are two major events coming up soon organised by the Aberdeen Trades Union Council which we'd encourage all branch member's to attend.
Aberdeen May Day March & Rally
The annual May Day March for International Workers' Day will take place this year on Saturday 2nd May.
All trade unions, community organisations, friends and families are encouraged to attend - bring your banners and placards, and let's make this march the biggest ever!
Groups gather at Rubislaw Terrace from 10.30am, for 11am march off. Aberdeen Universities UNISON branch will have our new banner there, so please just look for it and join the group!
The march will progress down Union Street to a rally and speakers at Castlegate from 11.45am. Come along and support this important event! Download the May Day 2015 Poster.
International Worker's Memorial Day
All over the world on 28th April each year organisations hold events to mark International Worker's Memorial Day. The purpose of IWMD is two-fold. Firstly it is about not forgetting those who have died, been injured, or made ill by their work. Secondly it is about ensuring that this tragic loss and suffering are used to reinvigorate the campaign for healthier and safer work.

The campaign slogan is "Remember the dead, fight for the living."

In this time of austerity, it is ever more important to protect our Health and Safety legislation, which is constantly under attack. The Aberdeen ceremony will take place on Tuesday 28th April at Persley Walled Garden, Bridge of Don, Aberdeen, meet at 12.30pm for the ceremony at 1pm. The ceremony will take approximately 30 minutes.
Everyone is welcome and invited to attend. Download the IWMD 2015 Poster.
Categories: Events | Information | Members