Branch Wins Scottish Communications Awards
10th February 2016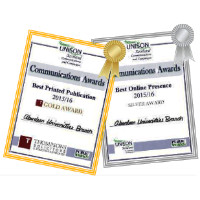 The branch has won two prizes in this year's UNISON Scottish Communications awards, with winners announced last weekend at UNISON's Scottish Council meeting.
This year the branch submitted two entries, one for our relaunched printed newsletter sent out to members periodically. This has been well received by members and we aim to continue to produce several issues a year. We won the top prize "Gold Award" for our printed newsletter, for which the branch received a cheque for £150.
Our second entry was for our relaunched website, which has a new responsive design, which works well with today's mobile phones and tablets, as well as on the desktop. It also has a clean modern look to it and links in to social media Twitter and Facebook feeds. We won the second prize "Silver Award" for the website, and received a cheque for £100.
Categories: Branch | Information