UNISON seeks improved pay offer over 0.9%
4th May 2015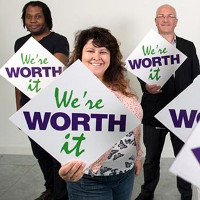 UNISON will seek an improved pay offer when unions and higher education employers meet at their next scheduled negotiating session on 12 May.
This follows an offer from the University and Colleges Employers Association for a 0.9% pay rise for pay spine point 9 and above, with higher increases on points 1-8, (see below).
This would mean the starting point of the higher education pay spine would equal the living wage.
Scottish universities have separately confirmed that they will pay all staff at the country's 19 higher education institutions at least the living wage of £7.85 an hour "for the foreseeable future".
A spokeswoman for Universities Scotland added: "The intention of every institution in the sector to pay the living wage for the foreseeable future is sincerely meant, but it as far as the sector is able to commit at present, given the unpredictable nature of annual increases in the living wage and uncertainty in higher education funding."
"We will continue to negotiate with the employers to improve the opening offer," commented UNISON national secretary Jon Richard. "We will continue to press universities to address low pay in the sector."