HE Employers Make Final Pay Offer
13th May 2015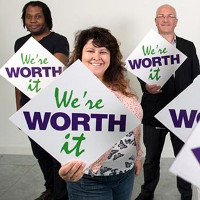 UNISON has received a "full and final" pay offer from higher education employers, which the union's higher education service group executive will discuss on Monday 18 May.
The offer for 2015-16 follows pay talks between the employers and joint higher ed unions, and consists of:
a 1% increase from 1 August for all staff covered by the higher education national agreement, who are on point 9 and above of the national pay spine;
increases of between 2.6% and 1.1% for staff on points 1 to 8 of the spine (note this is not the same as "grades" at the universities - see below), which would bring the lowest salary (point 1) up to the current living wage rate of £7.85 an hour for a 35-hour week.
The actual percentage increases for points 1 to 8 on the national pay spine, and how they link in with grades at the two universities are:
National Spinal Point
RGU
Equivalent
UofA
Equivalent
Percentage Increase
1
Unused
Unused
2.605%
2
Grade 1, Point 1
Unused
2.4%
3
Grade 1, Point 2
Unused
2.2%
4
Grade 1, Point 3
Grade 1, Point 1
2.0%
5
Unused
Grade 1, Point 2
1.7%
6
Unused
Grade 2, Point 1
1.5%
7
Unused
Grade 2, Point 2
1.3%
8
Grade 2, Point 1
Grade 2, Point 3
1.1%
9+
All others
All others
1.0%
Non-pay related elements of the offer include concluding work on pay equality started in 2014-15, with both parties to work together on a joint review of the 2014 pay data. This will include an expanded section on the gender pay gap, exploring gaps between job levels and information on occupation segregation.
On hourly paid and casual staff, the two sides will also look at ways to improve data collection and analysis on the evidence of these staff groups.