22nd May 2019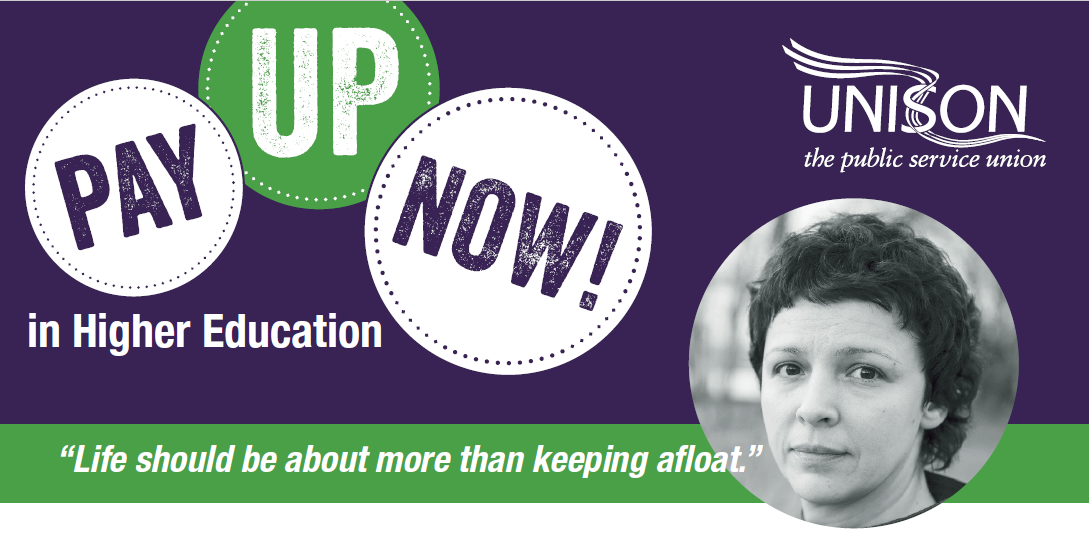 Why you should vote to REJECT the pay offer...
Staff in our world-class university system deserve a decent pay rise. You're certainly due one as the value of your pay has not kept up with the cost of living.
That's why UNISON, along with the other unions, has pushed hard to get a decent pay rise for all staff working in higher education. UNISON has also been calling for a £10 per hour minimum rate of pay and for all universities to become Living Wage Foundation accredited.
But your employer won't stump up. Instead they're offering a rise that falls short. University employers have offered the majority of the staff a rise of 1.8% with lower paid staff being offered between 1.82% and 3.65%. Full details can be found at unison.org.uk/payupnowforHE
We need to demonstrate right now that staff aren't willing to accept another inadequate pay rise that doesn't keep up with rising costs, or catch up with the pay you've already lost. We are consulting all UNISON members working in higher education across the UK.
Are you willing to take strike action to show your employer your goodwill has been stretched far enough, and that you deserve a proper pay rise?
UNISON's higher education service group executive recommend that you reject the pay offer in the consultation, to campaign for an improved pay deal.
EVERY VOTE COUNTS
We need the strongest possible mandate to show the employers the strength of feeling about the pay cuts in HE
Make sure all your friends and colleagues vote to REJECT the pay offer.
Categories: Consultation | Members | Pay